Aras Group announces its readiness to open the first branch of the famous German restaurant "Haval Grill" on Wednesday 24 July, with the slogan "KoftesPieb, Aryan & Chill". Haval Grill is located in Dubai, Jumeirah area and this will be the first branch of this chain outside Germany, and in the Middle East, North Africa and South Asia.
"Haval Grill" offers the most delicious dishes and the famous grilled kebab sandwiches, which are very popular, as they are prepared and cooked with a special secret mixture "Kofta Shebeez" and served with three different sauces to satisfy all tastes. In addition "Haval Grill" offers falafel with salad, and to complete the delicious taste, Laban Ayran is served with the meals to refresh the senses.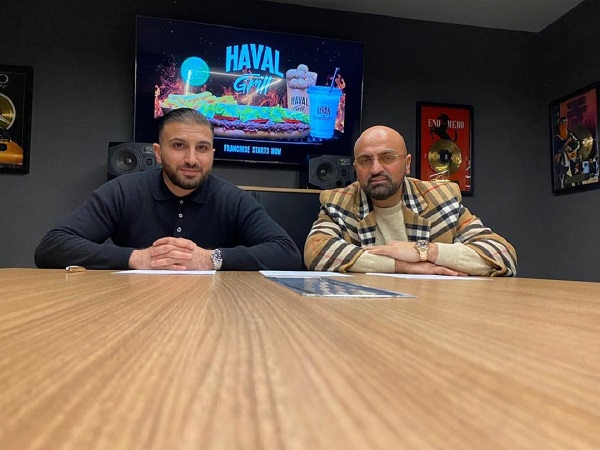 "Aras Group has signed a monopoly contract for the trademark in UAE and all the GCC. We are seeking to open more than one branch of "Haval Grill" in Dubai and all over the UAE before the end of this year" said Ashraf Mahmoud, Chairman of the Aras Group.
He added: "On the occasion of the opening and in celebration of Expo 2020 Dubai, we will host the German Rapper "Baba of Babas" XATAR, the owner of the original restaurant chain in Germany, who will visit Dubai for the first time to acquaint himself with this inspiring Emirate in the world of entrepreneurship, and to celebrate the opening of the first branch of the "Haval Grill"in Dubai. For that, we will soon run a competition on the social media accounts of "Haval Grill" with amazing giveaways to celebrate with our followers. "
The ownership of the "Haval Grill" restaurant belongs to the famous German rapper Xatar, who opened several branches in Germany in several cities such as Bonn, Essen and in Munich. In addition because of the high demand for the Kofta and falafel dishes, he produced a frozen versions of these and distributed it to supermarkets to make it easy for everyone to have a taste of Haval Grill.