As the sun gets brighter and the nights get longer, summer in Cairo is the ultimate opportunity to wake up every day and marvel at views of the legendary Nile and magical Cairo's skyline. Being the heartbeat of the Nile, Four Seasons Hotel Cairo at Nile Plaza makes for the perfect starting point to experience what Cairo has to offer this summer.
To extend a stay in Cairo, the Hotel offers the Stay Longer – Fifth Night Free package to explore this vibrant city. Guests can bask in Cairo's glorious sunshine with views of the 12th-century Citadel or the legendary Nile through floor-to-ceiling windows or a private terrace, as they enjoy 15% off Room Rate when staying for two or more nights.
Summertime in Cairo is as exciting as it is diverse. From centuries-old museums and galleries to landmarks and music concerts, the Concierge team at Four Seasons Hotel Cairo at Nile Plaza, shares their favorite things to do this summer in the vibrant city.
Get Lost in Cairo's 1000-Year Old Market, Khan El Khalili
Few places in Cairo can match the energy of Khan El Khalili market, especially in the evenings when the entire area is lit up with colorful lanterns. Explore historical architectural marvels, mosques, handcrafted-souvenirs, tucked-away famous cafes and authentic nooks. To experience the original taste of Egyptian cuisine, visit the authentic Naguib Mahfouz restaurant, surrounded by heritage and history.
Vibrant Evenings and Distinctive Mediterranean Cuisine at Bullona Cairo
With a vibrant ambiance and sleek, modern design, Bullona Cairo restaurant offers a memorable dining experience in the heart of Cairo at Four Seasons Hotel Cairo at Nile Plaza. Nestled along the graceful Nile River, Bullona sets the stage for a fusion of artistry and taste crafted by Italian Chef Cristian Lisci – paying tribute to Cairo and its ever-evolving night scene.
Travel Back in Time with Cairo's Most Fascinating Palaces
When summer weather strikes, take activities indoors while exploring Cairo's lavish palaces. From the masterpieces at Princess Aisha Fahmy Palace and the luxurious Manial Palace that tell stories of botanical eloquence and architectural grandeur to Amir Taz Palace, Abdeen Palace and many more examples of Cairo's more recent history.
Soak Up the Sun with a Cooling Dip
One of the best things about Cairo is the long morning hours. Take advantage and escape the heat into one of three rooftop swimming pools at the Hotel. Lounge with a refreshing drink in hand and let the cooling breeze that follows blow away any stressful thoughts.
Embrace the Warm Weather at the Spa
A hot summer day in Cairo is just the perfect time to set the mood for wellbeing at Four Seasons Spa – an oasis of peace with treatments designed to prep and prime guests to soak up that warm summer sun while reviving some of the Pharaoh's beauty secrets.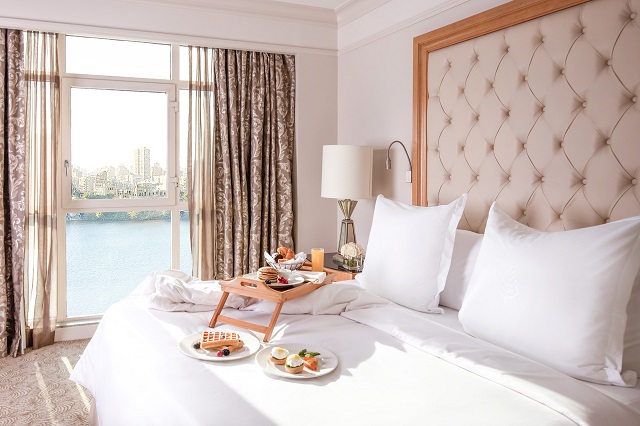 A Day with the Pharaohs at the Egyptian Museum
Home to the world's most extensive collection of ancient Egyptian antiquities, the 107-hall Egyptian Museum features an incredible 160,000 objects on display with artifacts spanning 5,000 years of the Pharaonic era.
Taste Your Way Around the world with Eight Dining Experiences
True to its reputation, Four Seasons Hotel Cairo at Nile Plaza is a destination in itself. Beyond offering comfort and convenient amenities in each guest room, the hotel features eight dynamic, stellar dining experiences offering diverse, authentic cuisines including Egyptian, Italian, Mediterranean, Chinese, and international, all served alongside panoramic views of the Nile.
Enjoy a Sunset Felucca Picnic
A Felluca is a traditional wooden sailing boat that was used by the Pharaohs throughout history and is definitely a must-do while in Cairo. The boat will carry guests on a smooth sail across the Nile against the backdrop of Cairo's remarkable landmarks. This wonderful experience begins just a few steps away from Four Seasons Cairo at Nile Plaza.
Go Skiing
Skiing does not have to stop just because it is summer in Cairo. Egypt's first snow park, Ski Egypt, is the perfect fun destination for all ages. The park offers a snow-filled winter wonderland all year round, from skiing and slope snowboarding to sledding and sliding.
Your Private In-room Stage to Discovering Cairo
With a bird's-eye view of the fascinating River Nile scenery up to the Cairo skyline and some of the city's most renowned landmarks, guests will love waking up to the colorful scenery from their private in-room terrace at Four Seasons Hotel Cairo at Nile Plaza. It's the perfect start to a day full of adventures in Cairo.
For more great things to do in Cairo this summer, contact Four Seasons Hotel Cairo at Nile Plaza at reservations.cai@fourseasons.com or +2-02-2791-7000.