Focusing on crafting the perfect family vacation with the maximum amount of pleasure and the minimum amount of effort, OV Holidays, a world leading Indian Ocean Leading Luxury Travel Concierge, has designed an array of memorable family vacation concepts, created to please every member across all ages through experienced consultancy which understands traveller needs, and with an efficient process to ease the holiday planning for parents, making it an enjoyable experience throughout the entire journey from the time they reach out to their dedicated consultant, to the moment they are escorted back to the airport by a dedicated airport staff to fly back home.
Among the features that set OV Holidays apart from other travel companies is the warm human approach and understanding that no family holiday is like another, in addition to its diverse portfolio of partner luxury properties, allowing travellers more options to choose from with much less hassle, as their dedicated travel consultant will listen to their needs, preferences and expectations and identifies the perfect place where each family's dream vacation will come true.
St. Regis Maldives Vommuli
John Jacob Astor Estate Children's Club
Designing the perfect vacation means going above and beyond, a concept OV Holidays shares with its partners who host some of the most encapsulating experiences for each family member. Among these partners, St. Regis Maldives Vommuli Resort stands out as one of the best family friendly resorts in Maldives. Located on an exclusive, 9-hectare island in the Dhaalu Atoll, the resort design is known for its refined yet contemporary details that blend seamlessly with the surrounding ecological environment. Featuring 33 on-land and 44 overwater villas, St. Regis Maldives Vommuli's accommodations gracefully reflect their location, with The John Jacob Astor Estate spanning 1,540 square meters and features three massive bedrooms, making it the largest overwater villa in Maldives.
St. Regis Maldives Vommuli Resort believes in cultivating new traditions, offering a variety of family friendly services including kids' amenities, childcare services, St. Regis butler and recreational activities such as watersports, anti-gravity yoga, beach football, cooking classes, group tennis coaching and many more. Dedicated to prioritizing kids' enjoyment and parents' private time, the Children's Club in Vommuli House has designed a program for kids from 4 to 12 years old that aim to entertain and enrich,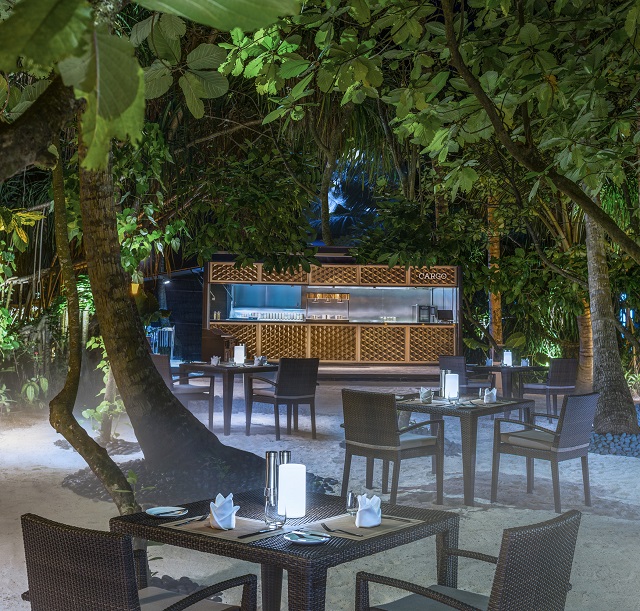 it features games, an outdoor playground, a movie centre and much more, keeping the little ones engaged throughout the day as they play, learn and make new friends. For children from 11 years old on, the Socialite is a unique game zone nestled in the heart of the jungle, where teens and families can share a fun time within an exciting environment, its activities include Air Hockey challenge, chess matches, board games and darts among many others.
St. Regis Maldives Vommuli Resort presents several cuisine options with a children's dining menu available at all outlets. Some of the culinary experiences include Alba dishing up Italian fare by the beachfront and pool, Orientale offering three open kitchens serving Indian, Chinese and Japanese flavours, and Cargo, an intimate Middle Eastern cuisine nestled amid the dense jungle.
Vakkaru Maldives
Over Water Family Pool Villa Parrotfish Club
The Maldives archipelago extends over 870 kilometres across the Indian Ocean, allowing its 26 geographical atolls to offer different facets of ocean life. Baa Atoll, a UNESCO Biosphere Reserve renowned for its biodiversity, is the generously lush home of Vakkaru Maldives, an unforgettable haven of luxuriously unmatched experiences, designed to soothe the soul with an elevated approach to island vacations. Featuring 113 beach and over water villas and suites, Vakkaru Resort reflects the charm of the Maldivian culture, present through its earthy yet elegant aesthetic and contributing to the feel of endless spaces and unfolding ocean. In addition to babysitting services, families can trust their little ones to the company of the Parrotfish Club, offering extensive facilities for kids aged between 3 and 12 years old, where they can explore their imagination through indoor arts, crafts and playful activities, or head to the outdoors space to feed their curiosity and express their energy by the children's pool. For a fun time shared by the whole family, the Coconut Club is an around-the-clock escape for warm yet competitive activities including pool tables, table tennis tables, foosball tables and board games, with tea and coffee making facilities, and a quiet lounge and reading area.
To satisfy every gourmand palette, Vakkaru Resort hosts an array of diversified culinary experiences including Vakku, an island style elegant restaurant with an open grill kitchen, Onu, the elegant tropical plantation serving South East Asians dishes, and Amaany, the Maldivian interpretation of global cuisine flavours.
For every family vacation fantasy, OV Holidays is equipped with the experience, choices and recommendations to provide a tailor-made experience that engages all family members, bringing them together for a escape to remember and memories to share, with a genuine service and a flexible approach to make it a stress-free process, giving more time and space for families to just pack and head towards its newest adventure.