For more than 10 years, Gourmet Burger Kitchen (GBK)'s deliciously handcrafted burgers have been a firm favorite with connoisseurs across the UAE
From the Classic Beef and Chicken, the contemporary Beyond and Californian vegan to premium choices like the Prime Wagyu and Jalapeno Overload, GBK has continually enhanced its menu based on customer preferences.
And their new recrafted menu, now available at GBK locations across the UAE at DIFC, Mirdif City Center, Jumeirah Lakes Tower – Cluster J and Abu Dhabi Mall., is no different.
According to Karim Hajjali, CEO, Food Quest, the company that owns and operates the GBK MENA franchise, it is designed to represent GBK's high quality food and value proposition and features craveable meal deals that will excite and entice customers
The menu has been streamlined to feature six of the best gourmet burgers available to order individually or as a meal with GBK's signature fries and a drink. Choose a beef, chicken or beyond meat patty and enjoy unbeatable value on signature burgers such as the Shroom Swiss, Jalapeno Overload, the Blue Rockfort, Avo beef Bacon and The Taxi Driver starting from just AED 51 for a meal
The Classics (Beef, Chicken or Beyond) are a mainstay and can also be purchased individually or as part of a super well-priced meal deal.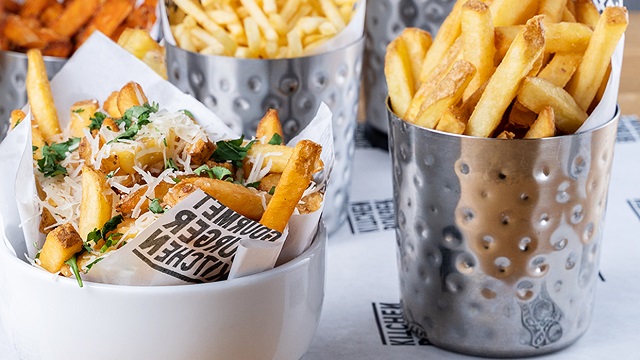 And finally, there are four specialty burgers on the menu for those who crave a little something extra – the indulgent Mighty, the protein-packed Vegan Californian, the decadent Prime Wagyu and the zingy Buffalo Chick'n. Once again these can be ordered individually or as a meal
Customization is another GBK signature and diners can now upgrade to a Wagyu patty for just AED 20, swap their bun for a lettuce wrap for free, add extra premium ingredients for just AED 5 each and homemade condiments for AED 3.  From the house mayo to garlic mayo and BBQ sauce, the delightful blue cheese sauce and the spicy smoke chili mayo, the choices when it comes to signature sauces is unparalleled
And wash all this down with a delicious GBK milkshake for just AED 23.  "This has been a challenging year for so many with value driving decision-making more than ever and eating out considered a treat rather than the norm.  Our new menu features the best of GBK and with its high-quality, value driven revised prices and increased customization, it truly is the perfect choice for anyone looking for great food, great value and a great dining experience," added the CEO