Whether you're after a casual dinner to mark your 'situationship' without the pressure, or are looking to relight that flame with a romantic candlelit dinner, February 14th offers the perfect excuse to experience Palm Jumeirah's very best restaurants with your other half.
Find your perfect date night in our guide to Valentine's Day restaurants at The Pointe, Palm West Beach and Club Vista Mare. These three scenic destinations have you covered with the top two essentials of a magical night – spectacular views and a great dining experience.
Here are the top places to enjoy a romantic meal at Palm Jumeirah:
The Pointe at Palm Jumeirah
Featuring the world's largest fountain illuminated in red as your backdrop, The Palm Fountain, The Pointe is a waterfront dining and beach destination that offers residents and visitors an iconic dining experience this Valentine's Day.
Il Passaggio: Savour an Italian menu-for-two all day on February 14th, featuring pan-seared foie gras for starters and a Canadian lobster thermidor, served with spiced lobster butter, mashed potato and garlic chips for mains, before ending on a sweet note. Vegetarian options available on request. The menu is priced at AED500 for 2 people, inclusive of soft drinks and a rosé for the ladies.
Visit @ilpassaggio_dxb to learn more
Argentina Grill: Experience the vibrance and beauty of South American culture through bursting flavours with a tapas tasting menu that includes specialties from the Chef such as grilled meats, seafood and pasta with plenty of choice for vegetarians. For those who want to try something special, you may visit the restaurant for tasting a new special: platinum steak. The menu is priced at AED350 per person including 3 hours of unlimited bubbles on February 14th, from 3pm onwards.
Visit @argentinagrill_dubai to learn more
KYO: Tantalise your tastebuds with a contemporary Japanese-inspired set menu of five courses and dessert including oysters tiradito, niku asupara maki, king crab creamy spicy, sushi platter, sea bass yuzu miso and coconut cake. KYO offers couples the opportunity to wine and dine the night away with their soft beverages package starting at AED1,000, house beverages package at AED1,500, and house beverages and bottle of bubbly at AED2,000.
Visit @kyorestaurantdubai to learn more
 Aiza: The perfect harmony of Greek-Mediterranean cuisine inspired by the Cyclades Islands in the Aegean Sea. Couples can choose from their a la carte menu and savour their specially created "Lover's fondant" dessert.
Zor: For an authentic representation of the essential culinary elements of Uzbek culture, discover Uzbekistan & Mediterranean cuisine in a set menu for AED450 for 2 people.
Visit @zordubai to learn more
· Aka: Recently open on the west side promenade of The Pointe, this cyberpunk-inspired lounge redefines traditional dining experience. If you are looking for something exquisite this Valentine's day, this new Asian-inspired lounge is the place for you. Indulge in a refined sushi menu with a bottle of bubbly for AED700 for 2 people.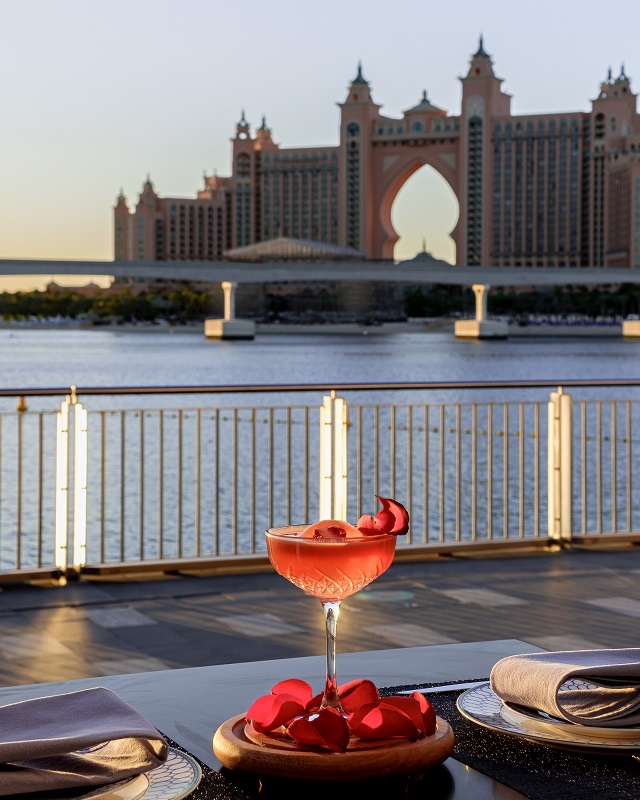 · Samakjé: The Levantine-inspired fish restaurant is offering couples an evening that begins with a specially curated welcome cocktail, followed by mouth-watering Lebanese hot and cold mezze as well as a stunning display of à la carte options including freshly shucked oysters, grilled sea bass with black lime sauce and Canadian lobster. You can also try the smoked salmon tartare that looks as delicious as it tastes. Couples will receive a complimentary heart-shaped cake to end the meal on a sweet note.
Visit @Samakjé to learn more
Food District: Try Bramble's signature cocktails crafted especially for the occasion, sossini coupe and spiced old fashion, while ordering from 13 homegrown concepts from Dubai chefs & restaurateurs. This unique dining hub includes Bite Me Burger & Get Plucked, Dibba Bay Oysters, Reif Japanese Kushiyaki, Smöl by The Lighthouse, Sticky Rice, Tandoornari & Wok Tales, The Roost and Wingsters. 
Club Vista Mare's shoreline
The picturesque hidden gem of Palm Jumeirah is a popular destination for an al fresco dining experience, where couples can walk on the shoreline beach and toe-dip in the sea.
Breeze Beach Grill: Looking for a casual dining experience where you can relax while enjoying spectacular views? Lounge about at Breeze and enjoy an alfresco dining experience. 
visit @breezebeachdxb to learn more
Palm Bay: Enjoy a fun Valentine's day in this fresh, vibrant and funk concept offering a taste of the Caribbean and a vibrant sunshine vibe.
Visit @palmbaydubai to learn more
Tap House: This beachfront restaurant and bar offers a variety of tap and craft lagers from around the world as well as modern European cuisine with a sprinkle of American comforts. The cool industrial interiors, chilled ambience and relaxed beach terrace makes Tap House a relaxed hangout for couples this Valentine's Day.  
Visit @taphousedubai to learn more
Azure Residences
Voted as a 'Highly Commended Best Outdoor Restaurant' in 2020, Il Faro offers all the flavours of Italy with spectacular 360-degree views this Valentine's day.
Visit @ilfarodxb to learn more
Palm West Beach's sunset views
This idyllic beachside destination offers a range of premium licensed hotels and restaurants, sea view vistas, and is home to the ultimate sunset spot in Dubai with a 1.6km promenade of 300 dreamy illuminated palm trees. Its multiple gastronomy venues are ideal to surprise your Valentine this year, including the beachside haven KoKo Bay, award-winning Jones The Grocer, vibrant Orange Chameleon and rustic and luxurious Lucky Fish. To celebrate love the Mexican way, Senor Pico has prepared special sandia cooler cocktails, pico's pomelo, valantina with a 20% discount on a selection of beverages.
On the East side of Palm West Beach, head to Aprons & Hammers for a complimentary Valentine's cocktailto sip with your other half, followed with shared buckets of succulent, saucy, seafood that is both delicious and messy. To learn more visit @Palmwestbeach, @luckyfishdubai, @orangechameleondxb, @seniorpico.thepalmdxb , @kokobayuae ; and @apronsandhammers