Game-changing active lifestyle destination Kandima Maldives has an incredible oh-so-romantic line-up in store for couples to get away from it all and enjoy the ultimate couples' escape this Valentine's Day. Under the program 'Oh-So VALENTINE DESIRES', whether you're newly together, declaring your love or renewing your vows, guests can get ready to feel the love at Kandima Maldives.
Neeraj Seth, Director of Marketing and Communications at Kandima Maldives, said: "With Valentine's Day just around the corner, romance is in the air and we want our guests to take their love to the next level. Our Cupid team has designed two bespoke itineraries for the Oh-So-Valentine Desires line-up bursting with dining experiences, events and excursions. From dreamy dinners on the beach, passion-filled art classes, movies under the stars to breath-taking cruises and exotic private island adventures – we've got it covered."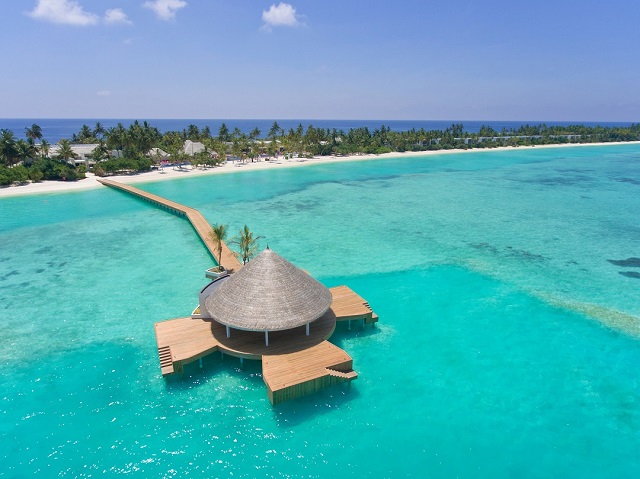 The Experience Your Tale of Love experience gives couples a chance to cherish Valentine's Day through experiences that create unforgettable memories with the one they love. Pamper yourself and your loved one by indulging in Love 'O' Refresh Therapy for $300++ per couple or bring out that love on canvas at the Picasso & Love guided art class for $120++ per couple. Enjoy an exclusive movie experience under the dazzling stars for $250++ per couple or surprise your Valentine with the Kandima Oh-so- Romantic private sunset cruise experience for $370++ or $120++ per couple. The offering also features a romantic 'Island Castaway Experience' at an exotic private island for $250++ per couple.
Delicious Tale of Love sets the stage with an Oh-so Romantic dinner on the beach with your boo, served up with a sprinkle of K' Magic for $590++ per couple. You can also surprise your valentine with our Oh-So Delicious exotic and romantic floating breakfast experience for $150++ and enjoy specially crafted and curated valentine cocktails to make your day oh-so special!
This Valentine's Day, Kandima Maldives will help you share unforgettable moments together in the dreamy settings of an #AnythingButOrdinary Maldivian island destination. Click here for a complete overview of the Kandima Maldives 'Oh-So VALENTINE DESIRES schedule.