China. Japan. Korea. Myanmar. Singapore. Vietnam. Thailand. India…just some of the countries whose food influences are represented on the menu at Sizzling Wok, the signature Pan-Asian restaurant at newly opened Citymax Business Bay.
A contemporary avatar of the homegrown hotel chain's popular Chinese restaurant brand, Sizzling Wok is designed to be a favorite neighborhood haunt where regulars can stop by several times a week.
The relaxed, Insta-worthy look and feel of the new space complements the exciting and eclectic menu that bounces around Asia cherry-picking its way through the continent. From Singaporean street food to spicy, rich Thai curries, Korean Beef Bulgogi and Gochujang lamb chops to Calcutta tangra-style chilli chicken, Burmese Khao Suey and Japanese Ramen, Sizzling Wok takes you on a beautiful culinary journey.
"Great Asian food and uniquely crafted Asian-inspired cocktails in a contemporary setting that combines the coolness of a Tokyo noodle bar with the warmth of your neighborhood Chinese place and the energy of a Singaporean hawker center. With a little Korean K-pop vibe thrown in! This is how we would like to describe Sizzling Wok, Business Bay," said Arun Mathew, Food & Beverage Manager – Citymax Hotel Business Bay, Dubai.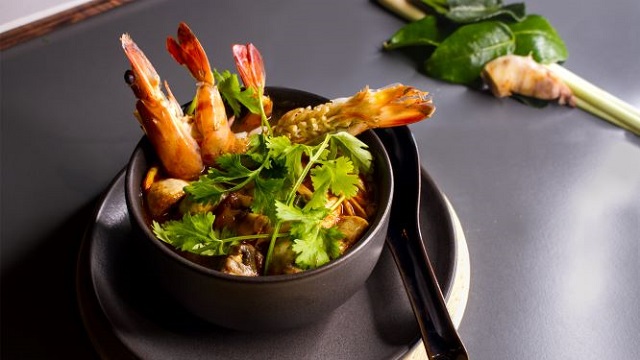 The cocktail, grapes and hops list, created and curated by the in-house team is equally diverse and includes original concoctions like The Shanghai Swizzle, Nihonshu Daisy, Shiso-Wabi, Mouhitotsu Negroni and Blossom Season. The hops list includes some Asian favorites.
The restaurant interiors are equally note-worthy with vibrant neon signage juxtaposed with traditional Vietnamese-inspired light fixtures, dramatic wall-art and upbeat K-pop serving as the background score.
The restaurant is launching with some great offers including a daily lunch set menu, which includes a Soup, Starter, Main Course and Dessert for just AED 49! And if you'd like to quench your thirst whilst enjoying the lunch all beverages are at a 25 percent discount between 12 pm and 3 pm.
On Valentine's Day, Sizzling Wok is pulling out all the stops with a delightful 5-course set menu for just AED 149 that includes signature dishes such as the Lobster Bao, Teriyaki Salmon, Gochujang Lamb Chops and Korean Beef Ribs. Not to mention a delectable dessert platter for 2, with Sake Cheesecake, Strawberry Mochi, Pandan Brule and Rose Petal Infused Tiramisu. On the night, enjoy Sizzling Wok signature cocktails or a house beverage for just AED 25 from 7 pm to 11 pm.
Sizzling Wok is open daily from 12pm – 3pm for lunch and 7pm – Midnight for dinner. All social distancing and safety protocols are always adhered to. For reservations call 0563162245 or visit sizzlingwokae on Instagram