Yauatcha Riyadh has some great news for all the fine tea fanatics and mixology enthusiasts out there as they are hosting 2 masterclasses this January, where one will be specialized in tea making and the other will be mixology themed. Each class will run for 45 minutes, and interested guests need to book in advance, keeping in mind that a minimum of 2 guests is required to book a class.
For the tea masterclass, Yauatcha bartenders will take the guests through a full unique experience, starting with an introduction where they will educate them about the different kinds of tea and tea brewing and what parts of the world they originate from, while also guiding them through Yauatcha's tea list and philosophy. The guests will end each class with a special tea and food pairing to their liking. This masterclass will take place in 2 sessions every Sunday, Monday, Tuesday, Wednesday and Thursday from 3:00 PM to 7:00 PM at Yauatcha's rooftop bar.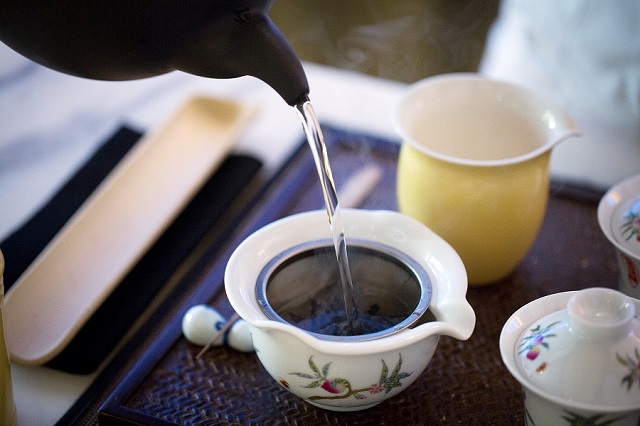 As for the mocktail masterclass, Yauatcha bartenders will guide the guests through the background and concepts of mixology and cocktails and teach them about the different techniques available, while also taking them through Yauatcha's Orchard list and beverage philosophy. By the end of the masterclass, not only will the guests be enjoying a pairing of a mocktail with Yauatcha's signature dim sums, but also they are going to be able to make their own cocktails at home. This masterclass will take place every Sunday, Monday, and Tuesday from 3:00 to 7:00 PM at Yauatcha's rooftop bar.
In line with government and health authority guidance for health and sanitation, the restaurant
has moved to a paperless menu system via a scannable QR code from your phone, tables
spaciously separated practicing social distancing, and a rigorous cleaning plan has been put
into place.
Yauatcha Riyadh
Located plaza level inside Al Faisaliah Mall – Mode
Olaya District – Prince Sultan Street
Riyadh 11433 – P.O. Box 10400
Kingdom of Saudi Arabia
For bookings please visit: www.yauatcha.sa or call: +966-920-006-555
Follow Yauatcha Riyadh on Instagram @yauatchariyadh Cuisine: Cantonese