ZOR, the latest dining destination to open at The Pointe, Palm Jumeirah celebrates its Grand Opening weekend on Thursday, December 17th and Friday December 18th with a memorable live performance by Uzbek superstar Sevara Nazarkhan. A singer, songwriter and musician, Sevara has achieved worldwide fame through her collaboration with many high-profile international artists as well as through her unique music style which incorporates Uzbek folk and contemporary music.
ZOR has been designed with a bold vision to showcase the best of authentic Uzbek culture and cuisine to the Middle East. And so, the concept offers guests a first-hand glimpse into the true spirit of Uzbekistan, via an immersive culinary journey. Seen as a melting pot of flavours and spices and with a rich and unique history, Uzbekistan's heritage is one that is embedded with numerous influences from neighbouring nations and as a result, many Uzbek recipes have centuries-old histories and are prepared with various rituals that elevate the dining experience to all-new heights.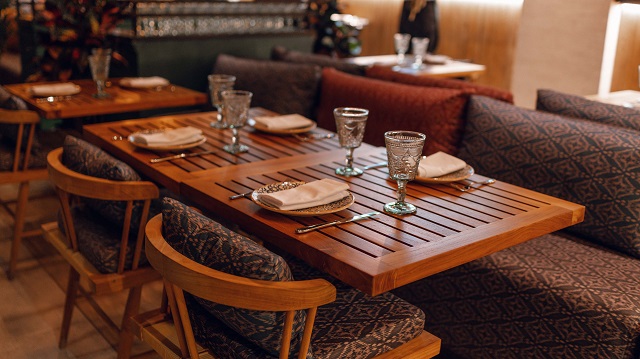 The carefully curated menu at ZOR combines age-old Uzbek recipes together with modern technology and the best of ingredients sourced directly from multiple provinces within Uzbekistan. Highlights from the flavourful menu include Chuchvara and Shurpa; traditional Uzbek beef and lamb soups cooked with an array of vegetables and served with a side of sour cream and lamb chops. A must try is ZOR's Osh, a much-loved dish of tenderly braised lamb meat, garlic and burned onions all cooked to perfection with Lazar rice and served with an achichuk salad. ZOR also offers guests an array of succulent meat skewers, served straight from the grill including Shashlik, Kofta's and juicy cooked Lamb Chops.
Set over two expansive floors and with an outside terrace overlooking the spectacular record-breaking fountains, ZOR is the ultimate location for either a relaxed night out, or a special occasion. With an ardent commitment to modern hospitality and an inherent belief that a guest's journey begins the moment they enter through the doors, at ZOR, diners are sure to be treated like royalty. To dine at ZOR is to experience the historic charm of Uzbekistan and to understand what makes the nation, its cuisine and its heritage ZOR – excellent!
Location: ZOR, The Pointe, Palm Jumeirah
Timings:
Lunch: 1pm to 5pm
Dinner: 6pm to 1am
For Reservations please contact04 566 9612or visit www.zor.ae
Opening concert by Sevara Nazarkhan:
Thursday, December 17th & Friday, December 18th