After nine months of experiencing Thailand virtually, the country has reopened its borders to travellers from the Middle East and the Tourism Authority of Thailand (TAT) is highlighting the best elements of the destination for visitors to experience.
Chiang Mai – "New City"
With lush nature and beautiful scenery, Chiang Mai meaning "New City", is the ideal destination to embark on a one-of-a-kind adventure that is cultural and sustainable. Known for its religious sites and mountainous landscape, Chiang Mai also has a variety of local markets, hill tribe traditional weaving experiences and luxury resorts.
For an off-the-beaten-path retail experience, Jing Jai Market (also known as Chiang Mai's JJ Market) is an open-air local market north of Chiang Mai's old city that operates over the weekend where visitors can find organic produce and handmade handicrafts, or unwind at one of the cafes and restaurants in a pleasant atmosphere. In the same vicinity of the market is Chiang Mai's largest plant and garden market that sells a variety of native plants.
Nestled in the shade of Suthep Mountain, Studio Naenna is an ethical fashion and eco textiles community of women weavers comprised of "Weavers For the Environment" (WFE). The studio and store hosts a variety of textiles workshop including indigo harvesting and dying, as well as traditional Karen backstrap loom weaving workshops.
An hour from Chiang Mai with two idyllic properties, the Chai Lai Orchid lets guests live with elephants in its nature retreat in riverside bungalows, surrounded by lush tropical forest in a peaceful mountain retreat. A popular signature experience is the Elephant wake-up call, in keeping with the resorts' immersive elephant experiences.
Koh Samui – A tropical paradise
A popular upscale tourist hotspot, Koh Samui is an island off the east coast of Thailand and surrounded by over 40 other islands in the calm waters of the Gulf of Thailand. Island hopping is one of the most popular tourist activities, allowing travellers to spend time on different islands with ample opportunities to snorkel and scuba dive.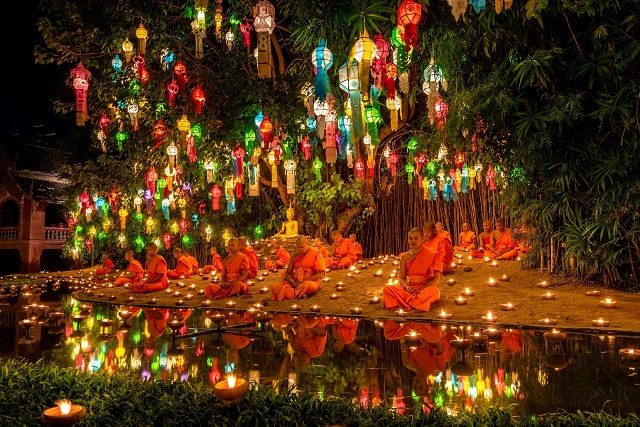 Koh Tao – also known as Turtle Island – is one of a large island 60 km north of Koh Samui. Surrounded by the crystal-clear waters of the Gulf of Thailand it is known as one of the greatest snorkelling and scuba diving destinations in southern Thailand and was only really 'discovered' in the early 1980s. It now features a variety of accommodation options for budget travellers as well as luxury resorts for travellers staying overnight.
Ten minutes away from Koh Tao by speedboat, Koh Nang Yuan is another popular diving island and is part of a cluster of three islands, connected by white sandy strips. It is home to the popular Nang Yuan Resort and is the only resort on the island. The island is privately owned and presents a variety of activities to experience including a 15-minute hike up to the highest peak, kayaking, as well as snorkelling and scuba diving.
Thai delicacies
Thai dishes are known for their delicious flavours and fragrant aromas, and are usually light and easy to prepare. The Thai Massaman curry is one of Thailand's most popular and traditional dishes, which was recently globally recognized as the number one dish in "The World's 50 Best Foods" list by CNN Travel, along with Tom Yum Kung (ranked 8th) and Som Tam papaya salad (ranked 46th).
A strong coconut-based meat curry that is spicy, sweet, and savoury, the Massaman curry is described as the "the king of curries and perhaps the king of all foods," by CNN. A creamy curry that incorporates a variety of spices including cardamom, cinnamon, star anise, and cumin, along with local ingredients such as local flavors such as lemongrass and galangal, and is usually made with chicken or beef.
Nuad Thai – a celebrated tradition
With its origins dating back 2,500 years, traditional Thai massage is considered part of the art, science and culture of Thai healthcare. Listed as an UNESCO 'intangible cultural heritage', the traditional Thai massage is a non-medicinal remedy and manual therapy, involving a bodily manipulation in aims to rebalance the body, energy and structure to treat illnesses believed to be caused by the obstruction of energy flow along 'sen', defined as lines that crisscross along the human body. To open up blocked routes, Nuad Thai therapists perform a combination of manipulations using their hands, elbows, knees and feet, together with herbal hot compresses to reduce inflammation. In the modern day, Nuad Thai is classified into two main types, including Nuad Thai therapy and Nuad Thai for health promotion. For more information, visit www.TourismThailand.org