This festive season, escape the city hustle and treat yourself to an island getaway at Heritance Aarah Maldives. Owned by the Sri Lankan hospitality group Aitken Spence Hotels, Heritance Aarah Maldives stands as one of the finest islands in the Maldives for an unforgettable holiday. A 150-luxury villa property nestled on the island of Raa Atoll, the resort is reachable via a 45-minutes sea plane flight from Male International Airport. The Premium All Inclusive resort has lined up exciting events and offerings for the festive month such as bubbly breakfasts, sundowner parties, exclusive gala dinners and BBQ evenings. In addition to this, there will be an array of exciting activities for the entire family including cake making, tree lighting ceremony and themed festive parties.
To enjoy the exciting events on the island, guests can book a stay in one of the Luxury Duplex Ocean Suites, spacious Ocean Villas, or the Beach Villas. The premium all-inclusive package on the island includes a culinary journey at 11 restaurants and bars, spa treatments at the first-ever Medi Spa in the Maldives, island excursions and in-room premium beverages. Packages start at USD 2,810 on a double sharing basis and inclusive of transfers. The resort also offers partial island buyout packages to ensure complete privacy and isolation.
The festivities and celebrations will be held in keeping with national and international health and safety standards and guidelines.
For more information or reservations, visit https://www.heritancehotels.com/aarah/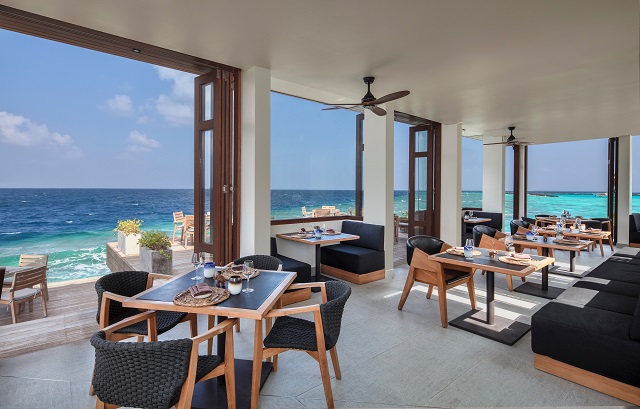 Note to the Editor:
A lineup of this year's holiday offerings are as below:
December 12 – Christmas Cake Making from 10:00am – 11:00am at Ambula Restaurant
(For all hotel guests)
December 21 – Christmas Tree Lighting Ceremony from 7:15 pm – 8:00pm at the reception
(For all hotel guests)
December 22 – Festive Beach BBQ Dinner from 7:30 om – 10:00 pm at Ranba Beach
(USD 250 net per couple)
December 23 – Festive Hi Tea from 4:00 pm to 5:00 pm at Bandhi Pool Bar
(For all hotel guests)
Tipsy Eve Sundown Cocktail Party from 7:00 pm – 10:00 pm at Ralu Lounge Bar
(USD 30 net per person)
December 24 – Christmas Eve Pre – Dinner party from 7:00 pm – 9:00pm at the Bandhi Pool bar
                                Christmas Eve Exclusive Gala Dinner from 8:00 pm – 10:00 pm at Ranba Main Restaurant and Beach
Christmas Eve After Party from 9:30 pm – 1:00 am at the Bandhi Pool bar
December 25 – Children's Christmas Party from 10:00 am – 12:00pm at Bandhi pool bar
Special Christmas Turkey Lunch from 12:30 pm – 3:30 pm at Ranba Restaurant
Grilled Burger Bar from 10:00 am – 3:00 pm at Bandhi Pool Bar
December 26 – Boxing Day lunch special from 12:30 pm – 3:30 pm at Ranba Rstaurarnt
Futsal Tournament between the hotel guests vs. staff from5:00 – 6:00 pm at the Futsal court
 Movie Night from 9:30 pm – 11:30pm at Bandhi pool bar
Special seven course Wine Dinner from 7:30 pm – 10:00 pm at Baani Restaurant
(USD 300 nett per person)
December 28 – Festive Beach BBQ from 7:30 pm – 10:00 pm at Ranba Beach
(USD 250 net per person)
December 30 – Tapas and Cocktail Bar from 6:30 pm – 11:30pm at Bandhi pool bar
Exclusive seven course Wine Dinner from 7:30 pm – 10:00 pm at Baani Restaurant
(USD 300 Nett per person)
December 31 – Pre-dinner Champagne Party from 6:30 pm – 7:30pm at Bandhi pool bar
                                Roaring 20's New Year's Eve Gala Dinner from 8:00 pm – 10:00 pm at Ranba Restaurant and Beach
                                New Year Eve Party from 9:30 pm – 2:00 pm at Ranba Beach January 1 – New Year Champagne Brunch from 8:00 am – 10:30 am at Ranba and Baani Restaurant