This winter, let your sense embark on an Arabian Nights adventure with the reopening of Bab Al Shams Desert Resort's signature dining venue – Al Hadheerah on Tuesday, 15th of December. Explore the sights, sounds and tastes of Arabia set amidst the enchanting dunes of Middle East's award-winning Best Desert Resort.
Immerse yourself in Arabian culture within the walls of a traditional fort where dazzling falconry displays, camel caravans, horse shows and Tanoura dancers come together for your entertainment. Complementing the experience are the mesmerizing dancers who weave their magic underneath the beautiful starry sky to the sounds of a live band.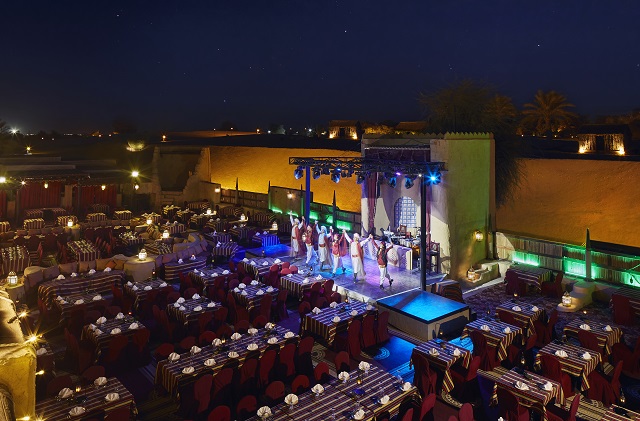 More than just a menu, Al Hadheerah's sumptuous selections of authentic Arabic cuisine is a true marvel. Carefully crafted by the resort's expert culinary team, you will enjoy every bite of the menu's mouthwatering flavours that feature barbecue of finest quality meats over live cooking stations, wood-fired ovens and spit roasts, set in socially distanced settings. Amplifying the experience further is a relaxed shisha experience, perfect for gatherings with loved ones after hours.
Al Hadheerah is open daily from 7pm till midnight at Bab Al Shams Desert Resort.